How to describe Shetland? Remote. Stunning. Beautiful. Peaceful. Extraordinary and well worth a visit. Which is what I recently did.
In July, I went with 2 close friends for a week of wildlife watching. We joined 5 others and our excellent guide, Dave, and spent all day every day soaking up the sights. Travelling by minibus and sometimes by boat, we worked our way up and down the mainland and across to some of the islands.
I love visiting any part of Scotland, and having been to the highlands and various islands, I knew Shetland would be rural. But I had no idea just how remote it would be. Yes, it's a long way north of the Scottish mainland, and is made up of islands, but what really struck me was the absence of people – and trees. The population is less than 25,000 with the capital, Lerwick having around 7,000. There are small communities dotted around, but otherwise it's all rolling grasslands leading to craggy cliffs and the sea. Truly beautiful. 
There might not be very many people, but there are lots of sheep. I've heard numbers ranging from 150,000 to 750,000 and obviously the number change through the year as the lambs come and go. But whatever the actual figure, it's a lot. Everywhere you look, there are sheep dotted about the landscape. The ones with black faces were particularly cute; sadly, I forgot to photograph any of those!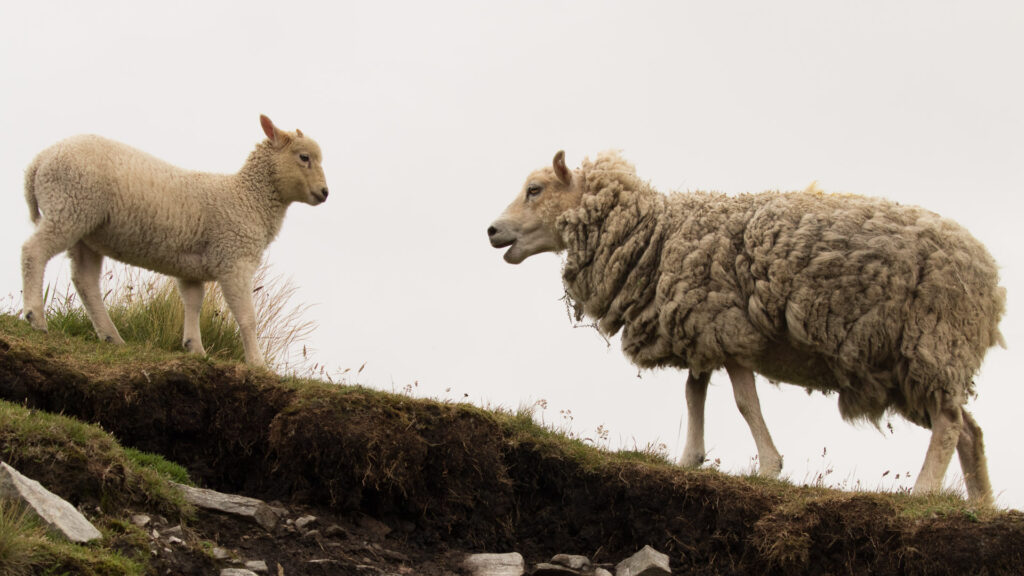 Far fewer, but also to be seen, were cows and ponies, and in the wild were rabbits and hares. There aren't many other animals inland and this lack of predators makes it a great place for birds to thrive.
Shetland is the perfect place for birdwatching. One of our group, a very keen bird watcher, saw 66 different birds during our time there. Some of them were at quite a distance, so good binoculars are a must. As an enthusiastic photographer, I have a zoom lens (100-400mm) but even with that, I frequently found myself peering at distant dots. Luckily, Dave had a scope we could use. I was amazed at the level of clarity it gave from so far away.
We did get plenty of opportunities to see the birds much closer, and these were some of the best sights ever. We went by boat to the Noss National Reserve and saw thousands of birds lined up on the cliff face and flying above. As well as the abundant northern gannets, there were guillemots, fulmars, kittiwakes, arctic skuas and many more. Later in the week, we had similar spectacular sightings on the cliffs of Hermaness National Nature Reserve.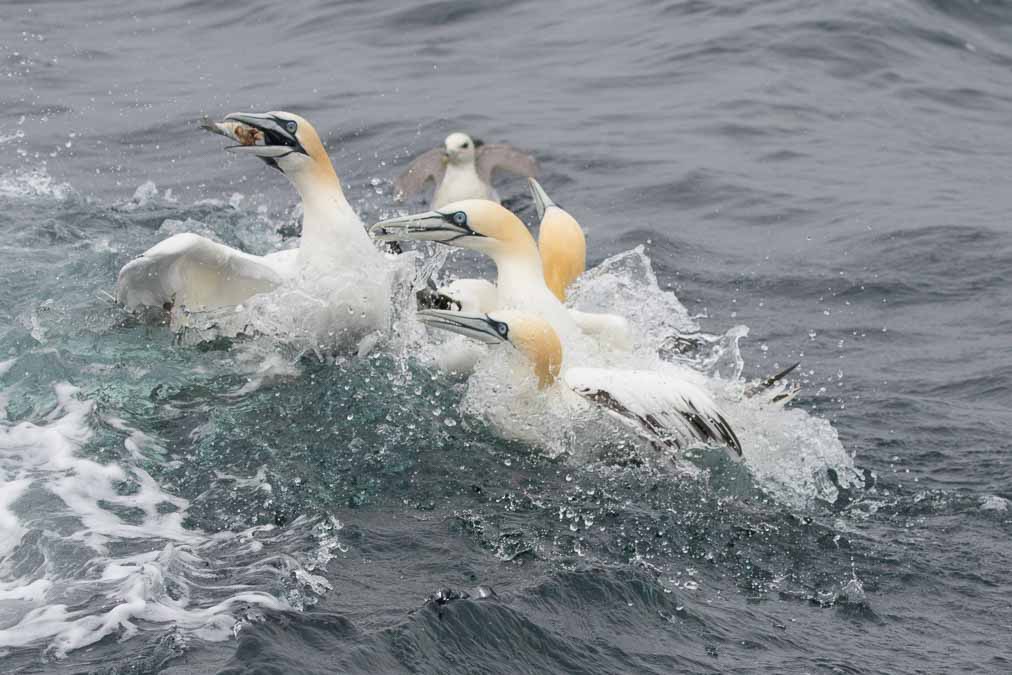 On the boat trip back from Noss, we were treated to close-ups of gannets diving and fighting over the fish being thrown to them. What a treat – for them and us! Another truly memorable experience that week was watching puffins rising from a cliff ledge and floating in mid-air, held up by the wind. It was as if they were playing. Then, with a tiny tilt of their wings or feet they would change direction, before gently landing back on the ledge. Or in some cases crashing into each other!   
One bird we didn't spot, which I feel I must mention, was the magpie. Yes, just the one. There is a single magpie living in someone's garden. We passed the garden but didn't see the magpie. I can't help wondering if it is happy there and chooses to stay, or got blown there in a storm and doesn't know how to get home. Naturally, this inspired me to write a poem about it: A Magpie Muses
Throughout our busy schedule, Dave kept in touch with a cetacean WhatsApp group that reports any orca sightings. If there was a good chance of seeing some, we'd take a detour and seek them out. At first all we saw were distant dorsal fins poking up from the water, like tiny fingers. That was exciting enough, but the real thrill came in the following days as the orcas came nearer.  Researchers and local naturalists can identify the individual orcas and have even given some of  them names. The first orcas we saw clearly were two males, Hulk and Nott. The next day we saw a whole pod in a bay, led by Mama 27. Some of them came quite close to us. At last!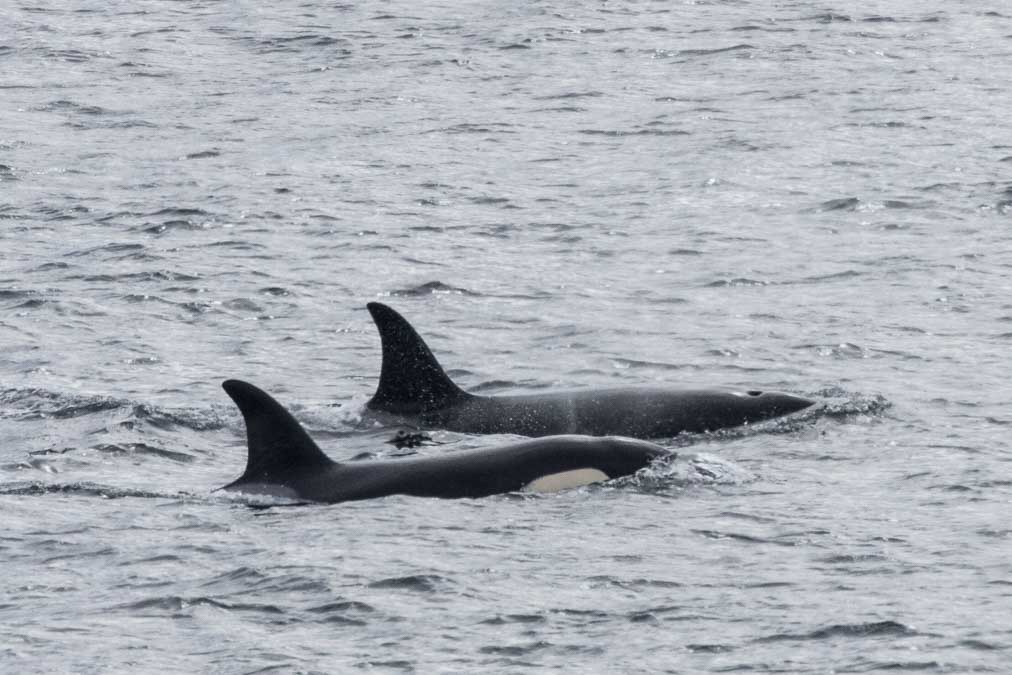 We also saw seals lined up on a beach, and a mother and baby coming ashore. At other times we'd see a seal resting on a rock. However, the otters proved a bit more elusive. I managed to miss the one that came right past us, but glimpsed others now and again in the middle distance. Otters Sadly, didn't make it to my favourite photos collection, but never mind.   
Shetland is almost the same distance from Aberdeen as from Bergen in Norway and was part of the Norse empire for a few centuries. Many of the place names have Norse origins and the annual Up Helly Aa festival, held in January, celebrates that history. It's a major event with hundreds of people in costumes singing and dancing through Lerwick, culminating in a squad dressed as Vikings setting fire to a replica long ship.
The Shetland flag is a white cross (+ rather than x) on a blue background. This combines the white + of the Norwegian flag and the blue background of the Scottish. A mix that sums up Shetland. It has an interesting history and while we focused on wildlife, others might well want to explore the Shetland Museum and Archives in Lerwick, and the many archaeological treasures found across the islands.
One ancient building we did visit was Mousa Broch – partly because it is a great place to see Storm Petrels which fly in as night falls. The Iron Age broch is 43 feet high and is the largest of its kind in Scotland. Between the inner and outer wall is a narrow staircase which we climbed – well worth the effort. 
Shetland is a fascinating place and certainly deserves a visit – be it for the birds and other wildlife, or to see the place and its people.
Finally, a thank you to our great guide Dave Fairhurst and Shetland Wildlife who organised this excellent trip; and to Jane, Julie and the rest of our fun and friendly group for your excellent company.