Recently I had the pleasure of spending a few days in the wilds of Scotland, celebrating a friend's 50th birthday. One afternoon a group of us went out on a boat to see the scenery and hopefully spot some seals. Fishing was an added option. I found the experience quite thought-provoking.
I'm allergic to certain fish and don't like the taste of most fish types, so I rarely eat it. Hardly surprising then that I have little or no desire to go fishing. Not least because the thought of seeing something being killed fills me with dread. I have been fishing just once, years ago, when on a business trip. It was hard to get out of, especially for one so junior. But by luck, or perhaps design, I was utterly useless and failed to catch a thing. I spent most of the time trying to untangle the line from the branches above me!
(Cont'd below)
Inevitably I have seen many fishermen in action when at the seaside, and I do live near a river. But if I spot any fish being hooked I si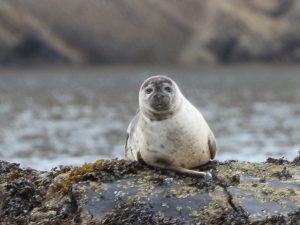 mply look away. That's harder to do when you're on a small boat, surrounded by friends all keenly catching.
We were in Inverie on the Knoydart peninsular. It is a wonderful place and as you can only get there by boat or on foot it feels truly remote. It has all the beauty of the west coast of Scotland, in abundance.  Viewing such scenery from the water – and some seals – seemed a good reason to take a boat trip. We were not disappointed on either count.
There were 8 of us on board, plus the captain. Six wanted to fish so they soon got started. There weren't enough rods for everyone, but they happily took it in turns. The more experienced helped the less experienced and the charming captain helped them all.
It was fine while they stood about, lines dangling overboard. Relaxed, chatting. I just carried on taking pho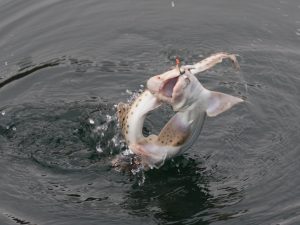 tos of seals and scenery. And swooping birds.  But then the fish bit. A line went taught. Excitement mounted. The battle was on. The human usually won. The catch emerged from the water and was directed to the deck. Wriggling and writhing. Coiling and uncoiling in a desperate bid to escape. Desperate? Do I mean that word? It implies the presence of feelings, emotions. Sentience even. And we all know fish have none of those attributes. Or do they?
I decided not to question the captain on how much he thought the fish could feel. To his credit, whatever his beliefs, he was clearly committed to dispatching the catch quickly and cleanly. I saw him clutch the fish, pick up a metal bar and take aim. I looked away.
They put the dead fish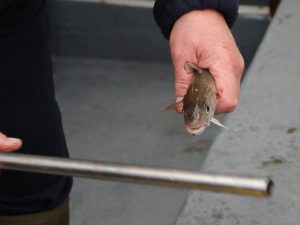 in a bucket. Others soon followed. A small competition developed:
who had caught the most? The biggest? The rarest? All friendly and light hearted, and yet respectful of the fish. My companions weren't there simply to kill, they were there to find food. Those fish not on the menu were thrown back into the water.  Did they know how close they'd come?
With a handful of fish in the bucket we returned to shore. Some of the group ate the fish that night. I asked them if they enjoyed it. Yes, they had, very much indeed. I could see the upsides. Fresh fish, nutritious. From the freedom of the local waters, rather than a fish farm and all that that entails. Caught just a few hundred yards away – so a tiny carbon footprint.
But the wriggling and writhing did bother me. Science suggests fish are more sentient than we have previously believed. We are also learning far more about the remarkable intelligence of all animals. Which brings me to what I ate while the others feasted on that fish. Venison followed by beef. Humanely killed?  I hope so, but do I really know? I've never been to an abattoir. Even if they let me in, I'd have to look away.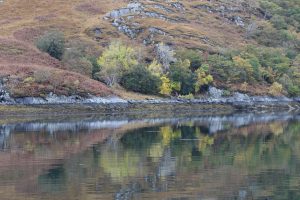 ---
© Allison Hill, 2016 (including photos)