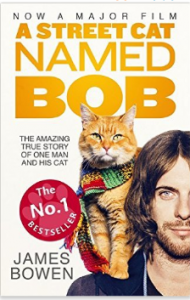 'A Street Cat Named Bob' is the film of the best-selling book (and its sequel). I'm a great cat lover and enjoyed the book, so going to see the film was a must. It's fun and full of some lovely cat scenes, but the entertainment value comes at the expense of the book's deeper meaning.
Bob, a ginger cat, is the feline star of the show as he brings purpose to the life of the book's narrator, James Bowen. At the start of the book, James, having spent time homeless and addicted to heroin has just been given a second chance. He is in sheltered accommodation, on methadone, and trying to scrape together a living as a busker. He then meets Bob and things begin to get better.
The film version of 'A Street Cat Named Bob' starts a little earlier, with a very stark portrayal of how difficult it is to be homeless, foraging in dustbins for food, receiving hostility from others. Then we meet Bob. We see how caring for Bob gets James though his difficult times and gives him the spur to come off methadone. Bob truly is a special cat; he's very cute and easily attracts people's attention. This helps James increase his income, both as a busker and later as a Big Issue seller. The film covers this well, along with many of the challenges James faces out on the street.
So far so good, but it isn't long before the need to entertain enters the plot. Having moved into his flat James meets a neighbour, the young and attractive Betty. She is living in the flat of her brother who died from drugs. She will not associate with anyone on drugs so James hides the truth of his addiction from her. The possibility of romance hangs in the air throughout the film, along with James's secret. This story line was not in the book.
Christmas inevitably offers the opportunity for lots of human interaction and symbolic gestures. In the film Betty spends it with James and Bob, dispensing lots of gifts. Cue for lots of cute moments. New Year is spent at James's father's house and it doesn't go well, not helped by Bob running wild and knocking down the Christmas tree. Cue for lots more laughs.
In the book a much earlier unsuccessful Christmas visit to James's father is briefly mentioned; these events of NYE did not happen in the book. Likewise, Bob briefly mentions seeing his friend Belle for a drink on Christmas Eve; the day with Betty didn't happen. In fact, Bob and James spend Christmas Day entirely alone. It is James who cooks a lovely meal for them both and gives Bob lots of toys. Despite being alone he says it's the best Christmas he's ever had. That is the real story. It was Bob who truly made the difference.
The absence of human love is at the heart of the book. People like James feel constant rejection; he was 'invisible' until Bob arrived. Add to that the daily grind of hunger, the difficulty of earning money, the damage of drug addiction. That was the mountain that James had to climb. This was shown in the film to some extent, but our mood was always quickly restored by amusing scenes featuring Bob. Such as the tussle of getting a cat to takes pills, or a cat's eye view of a mouse, dog or rabbit. These scenes added much fun to the film, but they also took something away.
James and Bob are now celebrities – the ideal place to be in today's world. I'm pleased that James Bowen turned his life around and still enjoys Bob's excellent company. 'A Street Cat Named Bob' is a feel good film – including those dark moments of realism – and that's fine. Bob is a very special cat and he did change James's life. It's a great story. But let's not forget the full story. What it was like to be James the rest of the time (read the book) and what it's still like for those without a Bob. Those without anyone at all.
---
© Allison Hill, 2016 (excluding images)