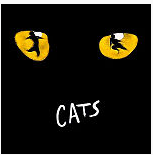 After a gap of 30 years I wondered if I'd enjoy seeing the famous musical Cats as much this time round. I saw it in the early 1980s and it was a very special night out. The show was a huge success. Its first run in London lasted 21 years and it was a long-term hit on Broadway too. Over the years it has been performed in many other countries, been seen by more than 73 million people, and won many awards.  Now it is at the London Palladium for a short and final season. I had organised for 14 of us to go to a matinee. Would it live up to my memory?
Cats features the characters from T S Eliot's Old Possum's Book of Practical Cats. Two of the poems, 'Jellicle Ball' and 'Old Deuteronomy', are brought to the fore to form the basis of a plot. It is the Annual Jellicle Ball and Deuteronomy is to choose who is going to be reborn into a better Jellicle Life. This provides the opportunity for each character to perform their individual story. Whilst that overall plot (not present in the poems) was rather forced, and a little vague, each story worked well on its own.  Rum Tum Tugger's rap song is a timely update on the rock star character of earlier productions and Mr Mistoffelees took athleticism to new heights, even by the impressive standards of this troupe.  Macavity's story, performed by others – as naturally he wasn't there – was another highlight.
I keenly awaited the arrival of Gus the Theatre Cat as I named my male cat after him; quite appropriately as it turned out, as my boy is a bit of a drama queen. The on-stage Gus was very much the ageing and palsied cat of the poem – and as my Gus is also no longer in his prime this further similarity was a little sad to see. However, this Gus was nowhere near being as thin as a rake, as the poem describes; and his baggy costume made him very far from feline, This was true too of Deuteronomy who looked more like a shaggy dog!
Grizabella, the Glamour Cat, did not feature in Old Possum but was imported by Andrew Lloyd Weber and Trevor Nunn from Eliot's other poems. They thereby created a central female role with the iconic song Memory providing a turning point for the plot. Grizabella is now being played by Beverley Knight, although (as we were told well in advance) she was not appearing at this matinee.  Her replacement did really well, delivering a moving version of 'Memory'.
So how did it stand up to the test of time? It was very enjoyable in many ways. There was some amazing dancing and Eliot's poems were good to hear. But the absence of a cohesive plot was a drawback, and at 2 hours 30 minutes it felt drawn out, especially towards the end of the first act. It was great to see the cat-like dance movements, but my personal preference is for words and a plot rather than a series of unconnected song and dance routines – exuberant though they were.
I spent much of the first act wondering if my companions were enjoying it. They gave it mixed reviews in the interval but all enjoyed the second half more. Certainly the rest of the audience seemed highly appreciative. Perhaps Cats has had its day, but it does deserve its past success. My lasting memory of it will be positive, not least as an incredibly creative way to present a set of characterful poems. But I still won't tell my Gus that his name is really Asparagus!
---
© Allison Hill, 2015 (excluding images)