… and how I lost my birthday money.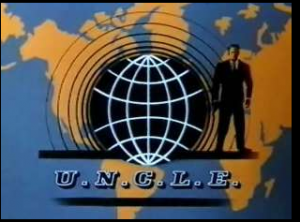 As a child I loved the TV programme The Man from U.N.C.L.E.  Illya Kuryakin and Napoleon Solo were my absolute heroes. Each episode excited and entertained to the full as they battled those evil enemies from T.H.R.U.S.H.
Even now I remember that T.H.R.U.S.H. stood for The Technological Hierarchy for the Removal of Undesirables and the Subjugation of Humanity. I almost don't want to see the film – just out – in case it fails to meet my expectations.
But not all my memories of The Man from U.N.C.L.E. are fond. There is the small matter of how I was made to part with my birthday money.
I came across an ad – in my weekly comic I think – inviting me to join The Man from U.N.C.L.E. Club. How could I resist? Even if the joining fee was rather steep.  £1 in the late 1960s was a lot of money for a child. It was the entire amount that a very generous aunt had just sent me for my birthday. But, I told myself, it will be worth it. Imagine being part of The Man from U.N.C.L.E. Club. A secret agent. All those codes and gadgets. Well worth the investment of all my birthday money.
I posted the form and the precious pound note and waited eagerly. Eventually it arrived. The letter. Welcoming me to my new status as a Member of The Man from U.N.C.L.E. Club. I raced through the letter to discover my first assignment. Living in a sleepy village in the heart of Worcestershire, I did appreciate that there might not be too many T.H.R.U.S.H. agents around for me to conquer. But some essential combat training, whilst mastering all those codes and gadgets, would be just fine.
The letter explained all. The essence of being a secret agent was … secrecy. So it was vital that I kept my new status totally secret until I was called upon for active service. Above all – and this was very important indeed – I must not under any circumstances try to contact The Man from U.N.C.L.E. Club. If I did, my cover could be blown. I had to sit tight – in secrecy and silence – and wait for them to contact me.
I waited and waited … until I finally realised that all I was going to get in return for my birthday money was that single letter. No call would come. Not even a book or a badge to be had.  Whoever had come up with that clever little con was onto a real winner – not least as secrecy was part of the plan. I'm sure the adorable Illya Kuryakin would not have approved. I could only conclude that it was the work of T.H.R.U.S.H.
I still await my revenge.  And that call.
---
© Allison Hill, 2015 (excluding images)