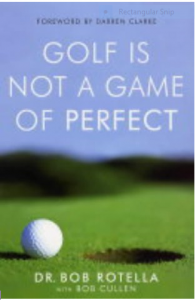 As David Cameron knows, a single word can have a big impact. I am of course referring to 'swarm' not  'pig'.
Cameron calling migrants a 'swarm' positioned himself as uncaring and out of touch with public compassion towards our fellow humans. Repetition of that single word replays our reaction in an instant.
I had a similar experience on the receiving end of a wrong word recently – although it is utterly trivial when compared with the suffering of migrants. It was all about golf: the mental game.
Those who have been unfortunate enough to play golf with me will know that my game can be very flaky and that in turn can make me a somewhat grumpy. As well as needing a few hundred lessons to teach my body to move in roughly the right direction, my mental game would benefit from a complete lobotomy. Always seeking new learning, usually in the form of a book, I decided to read 'Golf is not a game of Perfect' by Bob Rotella.
I was soon getting to grips with visualising my shots, trusting myself, and developing attitude and acceptance. Great stuff. But then I came across That Word.  Rotella started to refer to players with handicaps in the 20s (that's me) as DUFFERS. A book dedicated to instilling positive thinking  was now calling me a duffer! My fragile confidence began to crumble. So, I was useless after all.
I was so intrigued by the use of duffer I checked it out. According to my Collins English Dictionary duffer means a dull or incompetent person. Not great for the fragile ego. As Rotella is American I looked up the American English definition.  There I found that duffer is 'an incompetent, ineffectual, or clumsy person; especially a mediocre golfer'. Another dictionary defined duffer as a golfer with a high handicap and another as 'a relatively unskilled golfer'. So, it could be that Rotella was adopting American slang and simply referring to high handicappers with no insult intended. Perhaps. But at least for his English English readers a different choice of words would have been better. After all, Rotella potentially has swarms of players needing his input.
So my golf continues to flounder. But far more important, now the migrants are recognised as refugees, let's hope things radically improve for them.
---
© Allison Hill, 2015 (excluding images)